IDC forecasts: Uncertainty and weak demand, smartphone shipments will drop 3.5% in 2022
Smartphone shipments will decline by 3.5% in 2022 to 1.31 billion units, according to the latest forecast from IDC's latest Worldwide Quarterly Mobile Phone Tracker.
Smartphone shipments will decline by 3.5% in 2022 to 1.31 billion units, according to the latest forecast from IDC's latest Worldwide Quarterly Mobile Phone Tracker.
After three consecutive quarters of declines and mounting challenges on both the supply and demand sides, IDC has sharply revised down its 2022 shipment forecast from a previous forecast of positive growth of 1.6%. However, IDC expects a five-year compound annual growth rate (CAGR) of 1.9% through 2026 as the market rebounds, so this year's negative growth will be a short-term setback.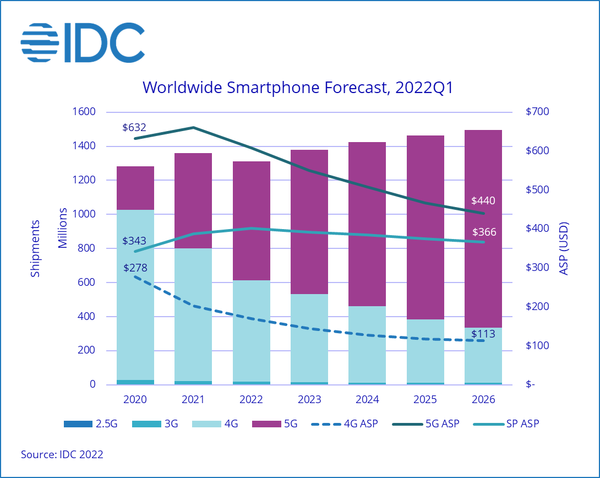 "The smartphone industry is facing growing headwinds from multiple fronts – weak demand, inflation, ongoing geopolitical tensions, and ongoing supply chain constraints," said Nabila Popal, research director, Worldwide Mobile and Consumer Devices at IDC. The impact of the lockdown (with no clear end in sight) is far greater." "By reducing demand in the world's largest market and tightening bottlenecks in an already-challenged supply chain, China's lockdown has hit both global demand and Supply. As a result, many OEMs have cut orders this year, including Apple and Samsung. However, Apple appears to be the least affected supplier because of its greater control over the supply chain and the majority of customers in the premium segment Less affected by macroeconomic issues such as inflation. Barring any new setbacks, we expect these challenges to finally ease by the end of the year, with the market recovering at 5% growth in 2023."
Phil Solis, research director of IDC's global semiconductor team, said: "Ongoing semiconductor supply issues will ease in the second half of 2022. On the SoC side, 4G SoC supply has been tight, but the market continues to shift to 5G SoCs." "The bigger problem is PMICs , display drivers and discrete standalone Wi-Fi chips are in tight supply. Capacity for these semiconductors made with new process technologies is increasing, and newer versions of Wi-Fi chips are being made. At the same time, demand is falling. Combined , these supply and demand changes will make the market more balanced."
Regionally, Central and Eastern Europe (CEE) is expected to experience the largest decline in 2022, with shipments down 22%. China is expected to drop by 11.5% or about 38 million units, accounting for about 80% of this year's decline in global shipments. Western Europe is forecast to decline by 1%, while most other regions will see positive growth this year, including Asia Pacific (excluding Japan and China), which is up 3%, the second-largest region after China.
5G devices are expected to grow 25.5% annually in 2022, accounting for 53% of new shipments, with nearly 700 million devices and an average selling price (ASP) of $608. Affected by the increase in China's 5G product channel inventory and the overall downward revision of market forecasts, this year's shipment forecast has been significantly lowered. In the long run, 5G is expected to account for 78% of sales in 2026, with an average selling price of $440. In comparison, 4G ASP is expected to be $170 in 2022, falling to $113 by the end of the forecast period. ASP for all equipment increased slightly in the short term due to component shortages and rising logistics costs. However, in the long run, the trend will remain downward. Smartphone ASP will drop from $402 in 2022 to $366 in 2026.
Join T Kebang Facebook Fan Group