LUNA Coin founder responds to South Korean tax evasion allegations, saying it was "purely coincidental" that the Korean business was closed days before the crash
Kwon Dohyung has denied allegations that he failed to meet his tax obligations in South Korea and said the closure of operations in South Korea in the days before TerraUSD's decoupling from the U.S. dollar was "purely coincidental."
Kwon Do-hyung, founder of the Terra (LUNA) stablecoin, faced South Korean authorities last week investigating charges of tax evasion. The reason is that he closed Terra's headquarters in Busan and Seoul just days before the LUNA crash. Kwon Dohyung and Terra's parent company in South Korea were ordered to pay 100 billion won ($78 million) in taxes to the National Tax Service.
Kwon Dohyung has denied allegations that he failed to meet his tax obligations in South Korea and said the closure of operations in South Korea in the days before TerraUSD's decoupling from the U.S. dollar was "purely coincidental."
Kwon Doheng tweeted: "I have been in Singapore since December – this was my personal decision, it was planned. I have been open to Singapore in multiple interviews. "
"It takes time to close a company, and the timing is purely coincidental," he added.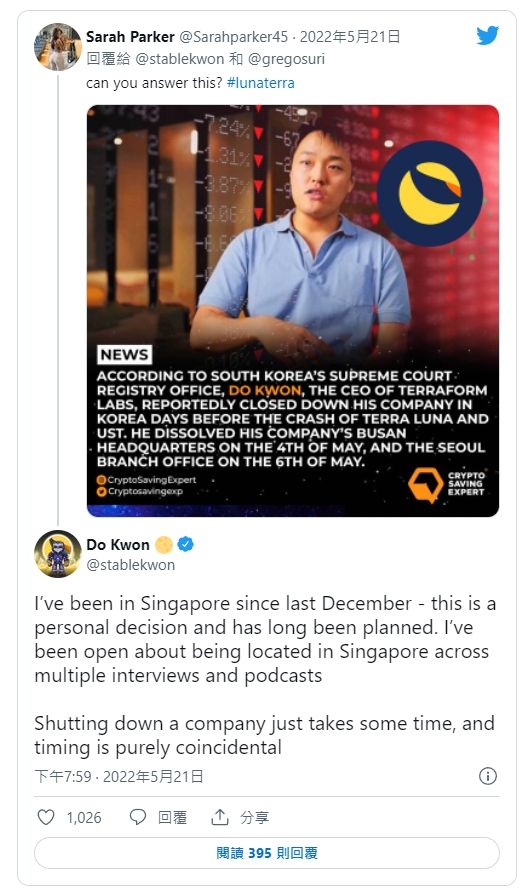 He also responded to allegations that Terra's parent company, Terraform Labs, "has always been registered in Singapore" and that the timing of the closure of the South Korean subsidiary was a coincidence.
He also said: "South Korea has zero cryptocurrency tax and a low cost of living, so tax issues were not the main reason for his decision to leave South Korea."
"We don't owe taxes in Korea," he said. The National Tax Service conducted tax investigations on all large cryptocurrency companies operating in Korea, and applied Korean tax laws to foreign parent companies, and as a result, all companies paid taxes— We paid it all."
Join T Kebang Facebook Fan Group